The history of CS:GO skins has been filled with controversy and possibly billions of completed trades. However, the players caught breaking Steam's guidelines will receive a ban on trading their items, which leaves their inventory inaccessible. Here's a look at some of the most valuable CS:GO skin inventories banned from trading.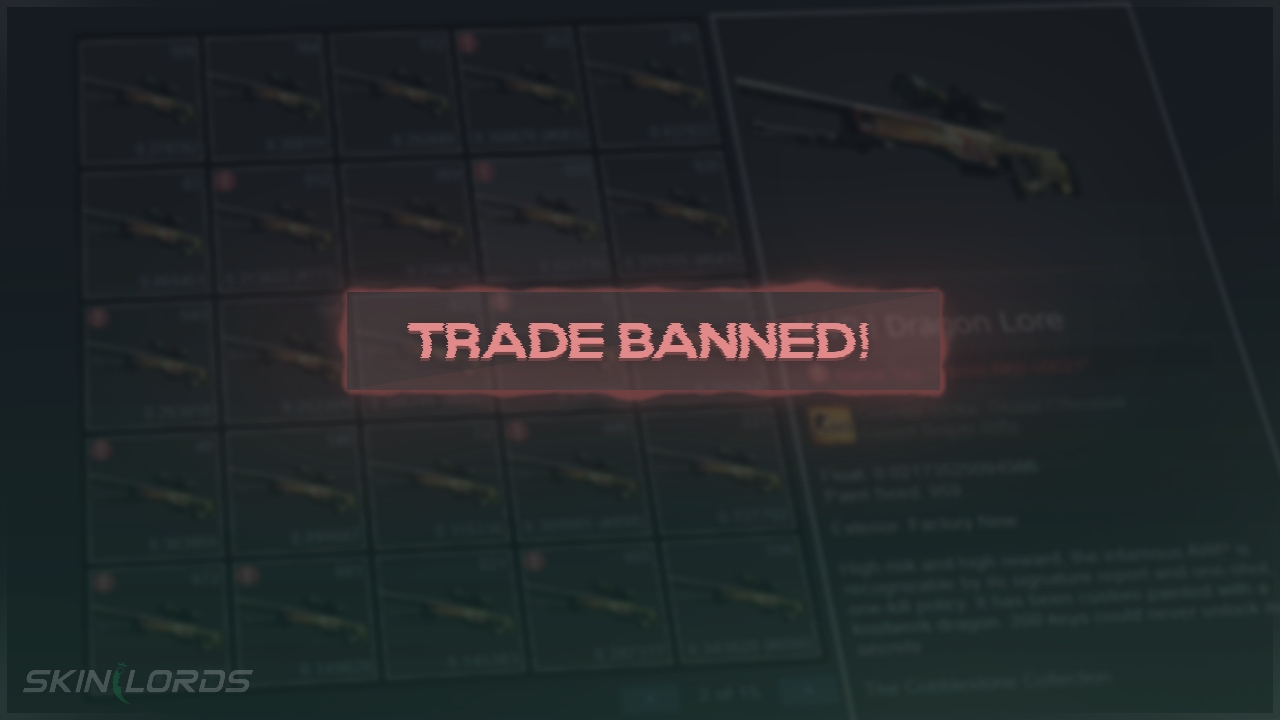 Please note that the inventory pricing information was last updated in July 2023.
7. "EyE" – $203,492
This Steam account appears to belong to EyE, the owner of the popular skin gambling site CSGORoll, with a total inventory value exceeding $200,000. It is believed to have been banned due to its connection to the skin site and the actions taken by Valve against those operating such skin gambling sites.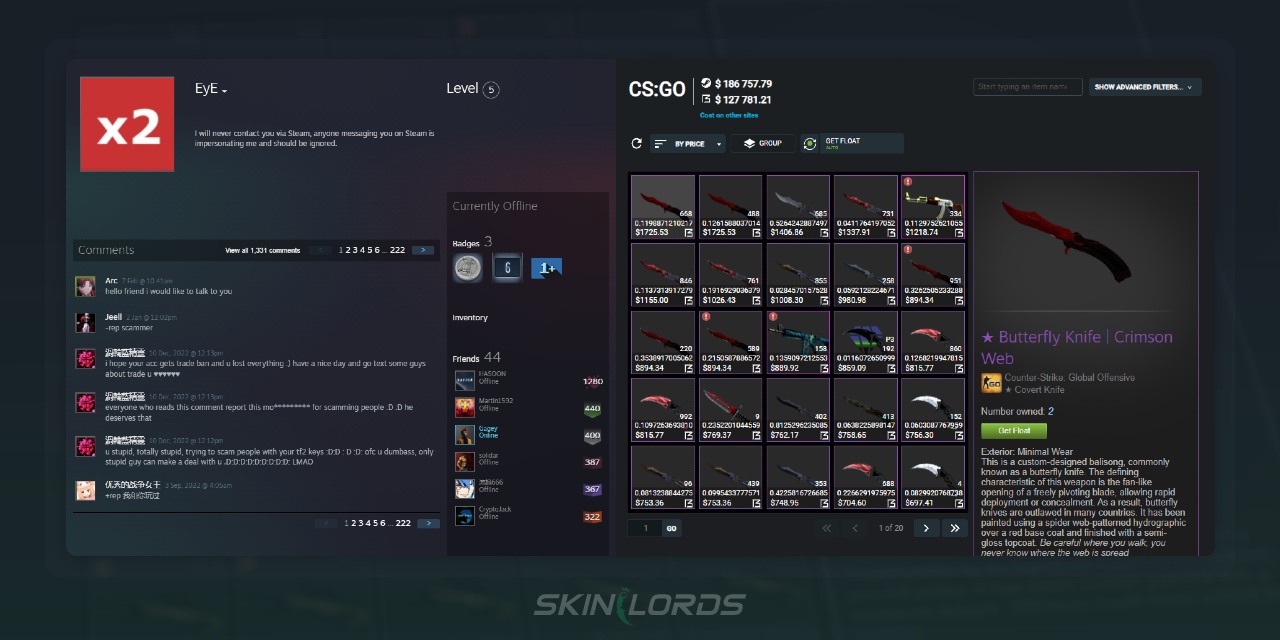 6. "󠀀 " – $365,304
The identity of this user is uncertain, with speculation pointing towards it being a wealthy player or a gambling site bot. Despite its worth of over $300,000, all of its 350+ knives and valuable skins cannot be traded due to the account being banned from playing CS:GO.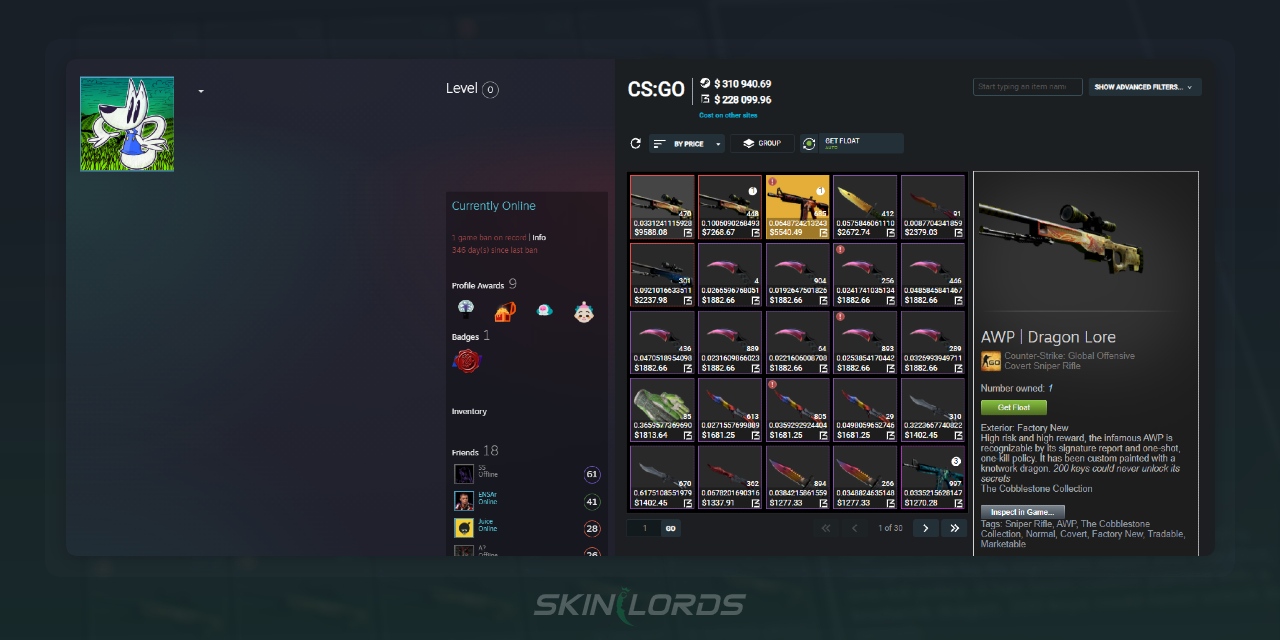 5. "我是劳改犯不要打我小心点" – $510,136
Contrary to expectations, this account was never a gambling bot. Rather, a Chinese collector reportedly owns it with an impressive skins collection. Sadly, the account has been banned from playing Counter-Strike due to cheating, rendering its over $500,000 worth of skins untradeable and effectively lost.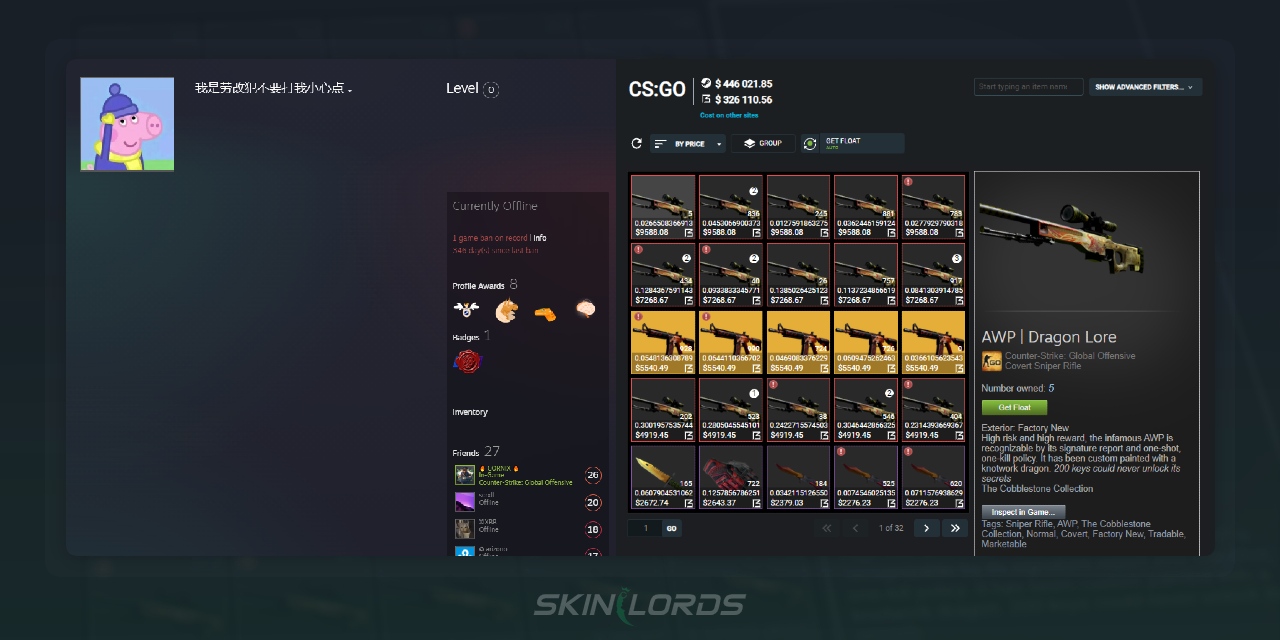 4. "Stiffler vgoreaper.gg" – $552,069
Another account, suspected to be owned by the same person who owns the most expensive trade-banned inventory in CS:GO, was been banned for operating as a gambling site bot or storage account. This account boasts an impressive collection of over 400 knives and numerous other rare skins.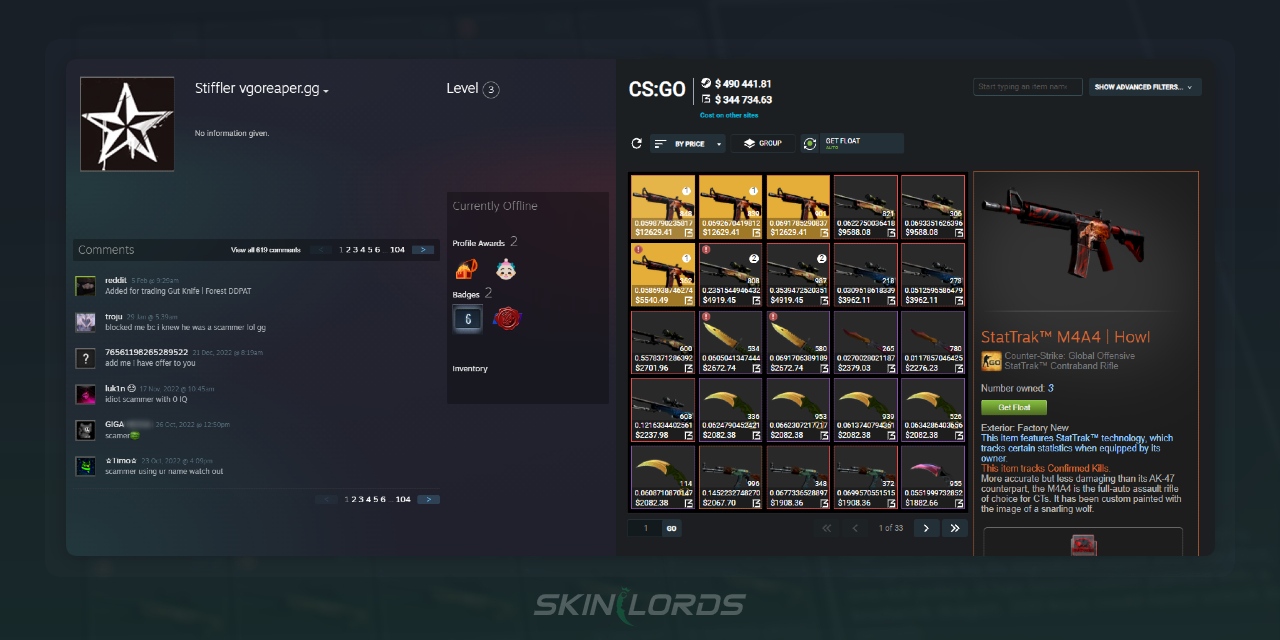 3. "Joe CSGORoll.com" – $681,494
Joe held the title for having the most expensive Steam inventory for several years, and he gained notoriety as the former owner of CSGORoll, a popular CS:GO gambling site prevalent during the early days of skin betting. This account boasts an impressive collection of over 750 knives and a staggering value of nearly $700,000.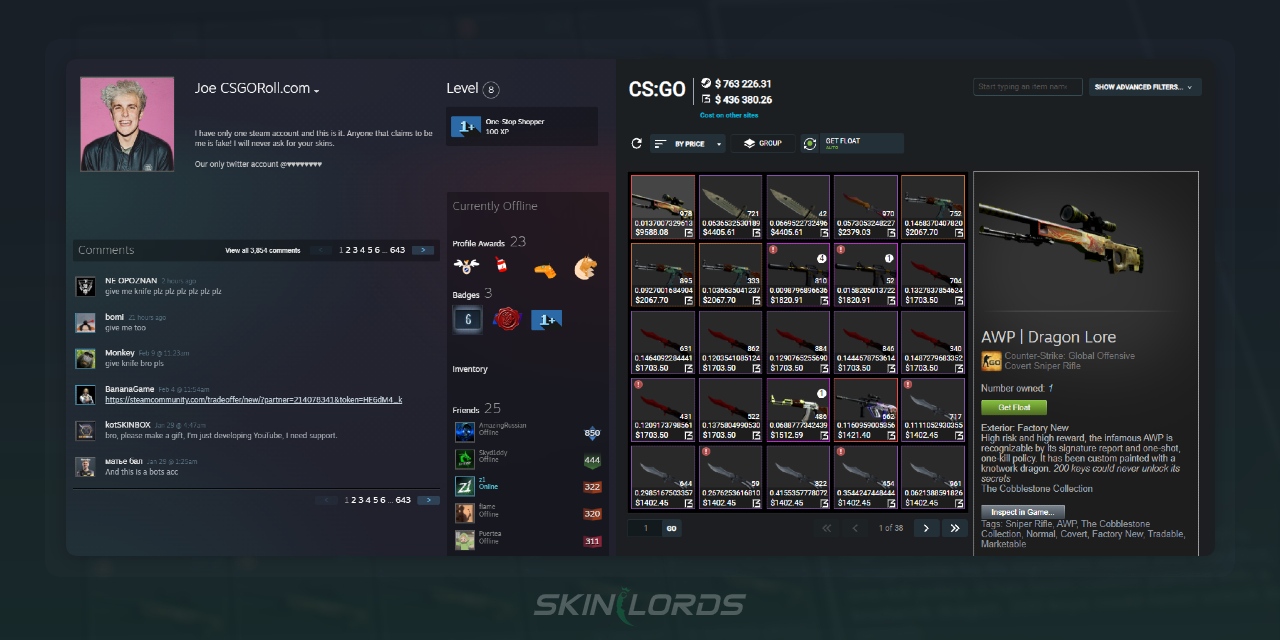 2. "Mcskillet's best friend" – $859,268
The account has gained a lot of attention due to its intriguing name. Many thought it belonged to the well-known CS:GO Youtuber who passed away in 2018 from a tragic car crash, McSkillet. However, upon further investigation, it was revealed to be an old gambling site bot that was renamed as a joke since McSkillet had operated several skin gambling sites. With a remarkable collection of 550+ knives and over 440 other exceptional skins, this inventory is estimated at around $850,000.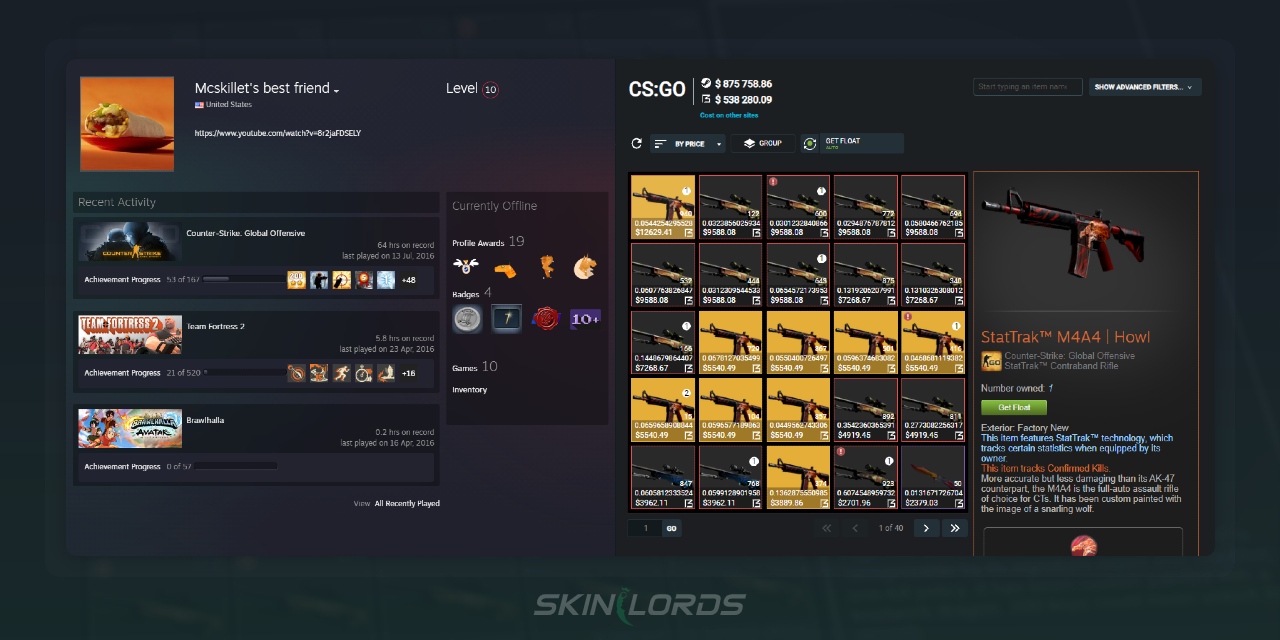 1. "Maria – vgoreaper.gg" – $978,742
The most costly trade-banned Steam account to date. It boasts 29 Dragon Lores, 17 Howls, and more than 380 knives. Based on the name, it appears that it was owned by the owner of a VGO gambling site during its peak in popularity.
VGO was a short-lived alternative to CS:GO skins before websites began using a peer-to-peer trading system. This banned account's sheer value is impressive and disheartening, with the skins now permanently lost.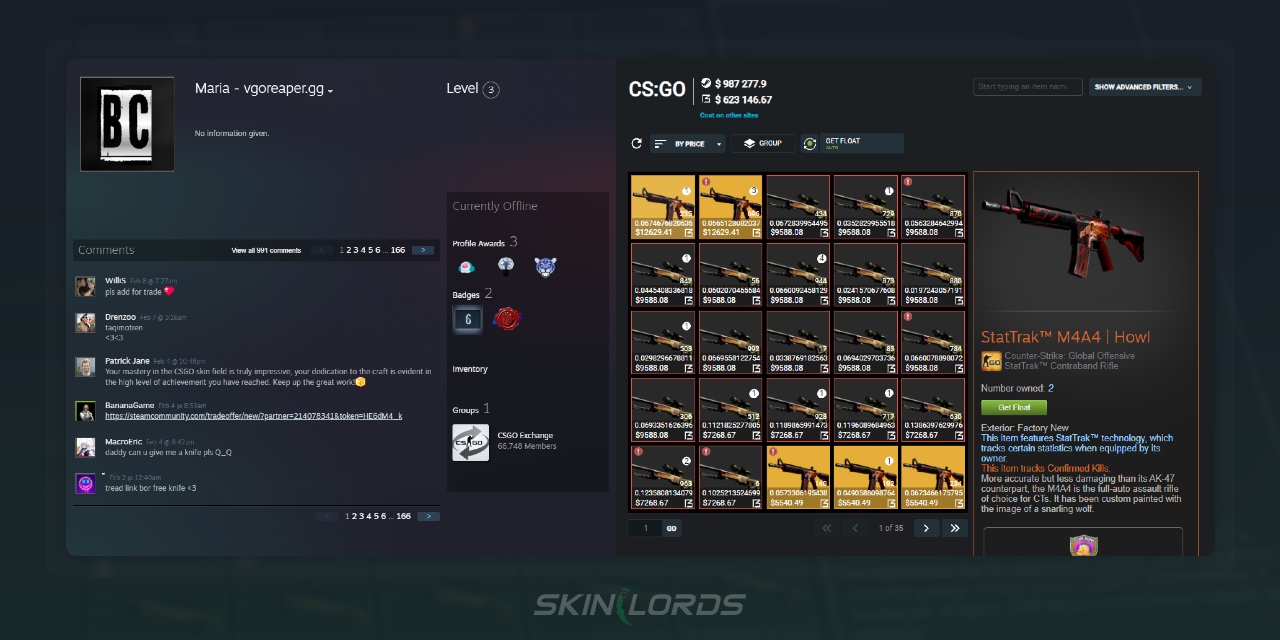 We hope you found our guide on the most expensive trade-banned inventories in CS:GO to be interesting and enjoyable. If you have any opinions on the matter, we would love to hear them in the comments section below.
Join daily skin giveaways on our Twitter!